News
1 February 2022
STM has received the certificate for 4-axle class TEMG1 gas locomotive, which was produced for Gazpromtrans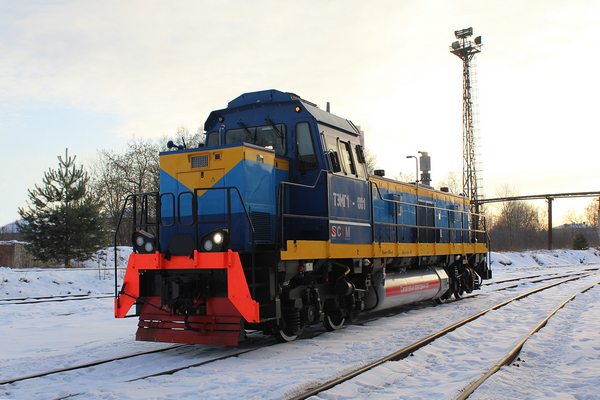 Sinara Transport Machines Holding (STM, part of Sinara Group) received the Certificate of Conformity issued by the Register of Certification in Federal Railway Transport for the TEMG1 shunting locomotive with two power plants running on liquefied natural gas (LNG). The new locomotive has successfully passed all the necessary certification tests for compliance with the requirements of CU TR 001/2011 (the Customs union technical regulations). The locomotive is an own development of STM and has no analogues in Russia.
The pilot operation of the machine is to commence in February in the Orenburg branch of Gazpromtrans, LLC and is being carried out according to the company's plan to expand its fleet of LNG-powered locomotives.
"We have all the necessary competencies for the development of railway transport operating on alternative energy sources. The use of liquefied natural gas is very promising in railway transport due to its environmental friendliness and efficiency. According to our estimates, class TEMG1 locomotive has good demand prospects due to the gas-filling infrastructure being created in Russia on the existing Russian railways network, as well as in the context of the ESG strategies implementation by the majority of Russian industrial companies, aimed, among other things, at reducing the carbon footprint. For example, some Russian metallurgical plants have already shown their interest in the machine and are planning to purchase the class TEMG1 locomotive for their enterprises," commented Victor Lesh, the CEO of STM.
The technical design specifications for this unique locomotive were developed in cooperation with the experts of Gazpromtrans. Moreover, the Ministry of Industry and Trade of the Russian Federation widely supported the development of the project on every stage. The locomotive's design includes advanced technical solutions: modular structure, microprocessor-based engine control system, asynchronous drive for all auxiliary machines. TEMG1 was produced at the facilities of the Lyudinovo Diesel Locomotive Plant (LTZ, the STM daughter company).
The 4-axle class TEMG1 gas-powered shunting locomotive runs on LNG, which can help to achieve CO2 emissions reduction up to 40% as compared to a traditional diesel locomotive. The capacity of the gas-engine locomotive is 1,120 hp. The LNG's reserve in the cryogenic tank is equal to 2600 kg and allows to ensure an unequipped mileage of up to 5 days.
Today more and more manufacturers are working on the production of the railway equipment that can operate on the alternative energy sources, the most popular of which are: electric batteries, hydrogen or its hybrids (hydrogen + batteries, for example), and also LNG. Let it be noted that LTZ already has an experience in the construction of locomotives running on liquefied natural gas. The GT1h mainline gas turbine locomotive manufactured for the Russian Railways is currently in operation at the Sverdlovsk Railway range.