News
26 July 2021
Sinara Transport Machines Presents a Prototype of a High-Speed Fitting Flatcar to Federal Freight Company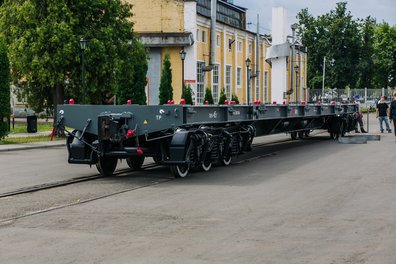 Sinara Transport Machines Holding presented a high-speed fitting flatcar, unique in terms of its technological characteristics, for the transportation of containers with an operating speed of 140 km/h, manufactured according to the Design Specification set forth by Federal Freight Joint Stock Company (FFC, JSC).

The project of new high-speed platforms is being developed jointly by RPM Group (Remputmash), which is a part of the STM Holding, and All-Russian Scientific Research Design and Technology Institute of Rolling Stock JSC (VNIKTI) by order of FFC, JSC. The new type of rolling stock will be produced at Remputmash Kaluga plant. Inspection of a 13-6704 flatcar prototype took place at the production site of the Kalugaputmash plant (an enterprise of STM Holding). The symbolic red ribbon was cut by Kirill Epshtein, Director of the Maintenance Vehicles Division - General Director of RPM Group; Andrey Shevtsov, Deputy General Director for Technical Development, Chief Engineer of FFC, JSC; and Anton Zubikhin, Deputy General Director for Sales, General Director of Trading House STM.

"We have all the necessary skills in the design and manufacture of high-speed rolling stock. For example, Lastochka electric trains, which can reach speeds up to 160 km/h, and AM-140 railroad cars, which can run at speeds up to 140 km/h. The creation of a fitting flatcar is another milestone that we have achieved. This car will allow Russian Railways to transport containers fr om China to Europe in seven days. We will meet this challenge," says Anton Zubikhin, General Director of Trading House STM.

The new 80-foot, high-speed, six-axle fitting flatcar incorporates innovative three-axle bogies. This and a number of other unique structural advantages allow it to have a larger carrying capacity with less load on the rails - 20 tons per axle. It means that these flatcars may be used to transport two 40-foot containers.

"The flatcar main components and units have been manufactured at the production sites of the Holding, says Kirill Epshtein, General Director of RPM Group. - Kaluga Plant Remputmash places an order for bogie production at Lyudinovo Diesel Locomotive Plant, Kalugaputmash manufactures the frame and does the main welding operations, and the whole flatcar is assembled at Remputmash Kaluga plant. So the final product is a compilation of the best workmanship of the Holding's production sites."

"The project to create a high-speed flatcar for the transportation of containerized cargo at speeds up to 140 km/h is being implemented in accordance with the FFC's Innovative Development Program until 2025, - explains Andrey Shevtsov. - It is planned that, in the future, such flatcars will be used for the transportation of goods in the direction of the Far East - European Russia, and for delivery of delicate goods with high added value from China to Europe at speeds equal to the speeds of passenger trains. The implementation of this service will allow the Russian Railways to offer a new high-margin product to markets."

In July-August, the flatcar prototypes will undergo test runs at the Experimental Railway Ring in Shcherbinka. There they will run at a speed of 120 km/h. After that, the flatcars will go to Belorechenskaya - Maikop high-speed test site of the North Caucasian Railway, wh ere they will operate at a speed of 140 km/h. The tests will be carried out with loaded containers. Completion of preliminary acceptance and certification tests, as well as obtaining a certificate, are planned for the fourth quarter of 2021. It should also be noted that the innovative flatcar will be presented to the general public for the first time as part of STM comprehensive static exposition at the International Railway Salon PRO//Dvizhenie.EXPO in August 2021.