Ural Locomotives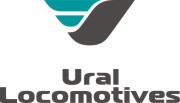 Ural Locomotives is a joint venture of the Sinara Group and the Siemens concern, established on the production base of the Ural Railway Engineering Plant on July 1, 2010.

The plant produces Sinara (2ES6) mainline freight DC electric locomotives with a collector traction drive, Granit (2ES10) mainline freight DC electric locomotives with induction motor drive, 2ES7 series AC mainline electric locomotives and Lastochka high-speed trains of various modifications.
Ural Locomotives is among the most advanced production complexes for manufacturing of high-speed transport in Europe, it is rightfully considered one of the leading enterprises of transport engineering in Russia. The production complex combines over 500 units of technological equipment from leading global manufacturers. The key consumer of the products is Russian Railways JSC.
Facts
> 1,000 electric locomotives produced in a decade
> 100 Lastochka electric trains run on the railways of Russia
4,000 employees
17 service centers in Russia.
Contacts:
Ural Locomotives Limited Liability Company
36 Parkovaya Street, Verkhnyaya Pyshma, Sverdlovsk Region, 624090, Russia
Phone: +7 (343) 379-41-59
Fax: +7 (343) 379-41-09
E-mail: mail@ulkm.ru